Out Now: Wolf on the High Sea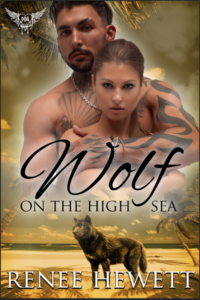 Before they have time to find their sea legs, Gia and Brett will be shocked to learn that they've been set up on Gerri Wilder's matchmaking cruise!
Gia Worth, bear shifter, has been working in Idlewyld as a property caretaker while saving up to open a Bed and Breakfast someday. She's not expecting it when her boss gives her an all-expenses-paid vacation on a cruise ship, but she quickly realizes she's in for more than she bargained for when she finds out that it's organized by Gerri Wilder, matchmaker extraordinaire.
Three years post-divorce, Brett Cowans is a wolf shifter leading a pleasant life running a bakery, far away from his past mistakes—including his non-mate ex-wife. He has no interest in rocking the boat by going on a vacation, but his brother and Gerri conspire to get him onboard, despite his objections.
The moment they meet, bear and wolf know they're fated mates, but they're in for an ocean of trouble when they realize they're star-crossed lovers thanks to their ties to warring organizations.
But that's just the beginning. There's more than one obstacle rocking this love boat.
This low-steam paranormal romance (fade to black) is book three in the Idlewyld Mates Series but can be read as a standalone. This novella is part of Milly Taiden's Paranormal Dating Agency shared world and features matchmaker extraordinaire Gerri Wilder!