'Tis the Season…for vampires!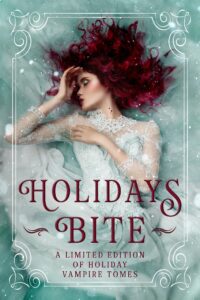 When the days grow shorter and dusk comes earlier, we may spend our time decorating with holly and mistletoe, drinking cider, and playing in the snow. But the creatures who stalk the night are in their element—and while visions of sugarplums dance in our heads, they're lurking in the shadows, knowing there's nothing so delicious as a vampire's kiss.
So settle in for a long winter's night full of winter holiday vampire tales from these New York Times, USA Today, and international bestselling authors. Including paranormal romance, urban fantasy, and dark fantasy, this collection give a whole new meaning to the term heartwarming.
Because sometimes, the holidays truly bite.
One-click now for holiday reads you'll never forget—even if you live forever.
Featuring stories by:
Laura Greenwood
Margo Bond Collins
Mirren Hogan
Edeline Wrigh
Elizabeth Dunlap
Kat Parrish
Elise Hennessy
Renee Hewett
Helen Scot

Sharon Rose Mayes
Quirah Casey
Cate Cassidy
Joe Quackenboss
Nicole Zoltack
Deb Christie
Sheena Austin
Krista Ames
J. A. Cummings
Meghyn King
Lily Luchesi
Lexi Ostrow
Tricia Schneider
R. L. Wilson
Fatima Bader
N.J. Ember
Tameri Etherton
Merrie Destefano
Angela Nicole Chu