Out Now: A Christmas Lynx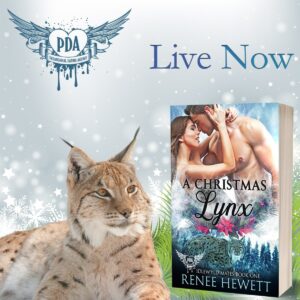 A mob enforcer bear shifter, a lynx shifter nurse with a deadly history, and an invitation to Gerri Wilder's famous Christmas Party!
Pryce Desalvo is the top mob enforcer in town, and he's sworn off love. He wouldn't want to bring anyone into his kind of life, and he certainly can't abandon his position and leave his friends open to dangerous opponents.
Love is something Nila Havens figures she'll never find, so she focuses her passion on her career—caring for her cancer patients. Life is simpler that way, and she is plenty happy with her life as it is. Well, maybe not plenty.
But when Pryce and Nila each receive an invitation to Gerri's Christmas party, they'll have to do the polite thing and show up. What will happen when they run into each other? Not what Gerri expected.
The two might be determined to go their separate ways, but secrets from Nila's past will have Pryce realizing that once you meet your mate, there's no turning back.
He might hem, and she might haw, but when a world-famous paranormal matchmaker sticks you together, you might as well accept it!
This paranormal romance is Book One in the Idlewyld Mates Series but can be read as a standalone. This novella is part of Milly Taiden's Paranormal Dating Agency shared world and features matchmaker extraordinaire, Gerri Wilder!